News & Events
Dooling Hayward Motorsports/ RCR announces Over Kill Motorsports as
New 2018 Chili Bowl Sponsor for Tanner Thorson
Morrison, IL (Dec. 30, 2017) – Dooling Hayward Motorsports/RCR is excited to partner with Over Kill Motorsports for the 2018 32nd Annual Lucas Oil Chili Bowl Nationals.
Through humble beginnings for father and son team Mitch and Mitchell Clary whom started their business out of their back yard, have become one of the most successful grass roots, motorcoach, trailer and golf cart dealers located in Jacksonville Beach, FL.
Through hard work and dedication coupled with quality products and commitment to excellent customer service Over Kill Motorsports has earned a spot as one of the most trusted dealers in the United States with customers extending abroad.
Tanner Thorson, the 21-year-old Minden, Nevada native has proved he is more than ready to continue to advance through the ranks in 2018. As a 2016 USAC National Midget Champion with 61 starts under his belt he's ready for No. 62 at the 2018 Chili Bowl Nationals.
"A company like Over Kill Motorsports is a perfect addition to the No. 63 team," Tanner stated. "I have confidence we can help gain awareness for their company, and I am proud to welcome them as a partner to our Motorsports team.
With my Chief Mechanic, Rusty Kunz's hard work as well as all the effort from my team at Dooling Hayward Motorsports/RCR along with all of our sponsors makes this a very unique opportunity. It has me determined and really looking forward to a successful start to our season," Thorson concluded.
2017 STATS –
61 Races, 7 Wins, 34 Top 5s, 41 Top 10s
---
Join Our electronic mailing list and receive notifications about upcoming events, latest sales, new arrivals & exclusive offers
Join Our Electronic Mailing List
---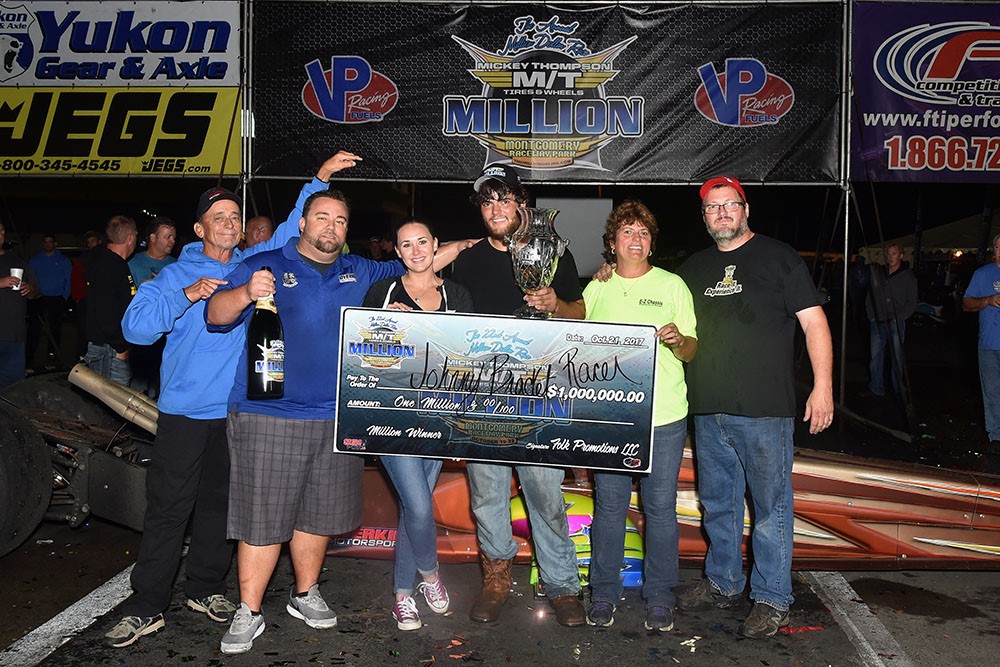 Over Kill Motorsports enjoys big success at the Million

MONTGOMERY, Ala. – Mitch Clary knows a good investment when he sees one so when he had an opportunity to back rising E.T. bracket racing star John Ezell during last week's Mickey Thompson Tires Million Dollar Drag Race, it was too good to pass up. Clary posted Ezell's $2,000 entry fee into the Million Dollar main event, and posted the $500 buy-back so Ezell could re-enter the event after a round one loss. In the end, Clary's foresight paid big dividends after Ezell went the distance, defeating a field of 337 entries to win the $325,000 top prize.

Throughout nine grueling rounds of eliminations, Clary watched in anticipation as Ezell drove his dragster past some of the toughest competition in the world of sportsman drag racing. Near midnight, Ezell reached the final round and went on to defeat Jason Lynch to win the prestigious event. The winner's circle celebration was animated and unrestrained and Clary was right in the middle of it.

"This was so cool to be a part of," said Clary, who operates Over Kill Motorsports in his hometown of Jacksonville, Fla. Over Kill is a leading retailer of motor homes, trailers, and custom golf carts. "I've had a chance to watch Johnny race and I've seen his talents develop. I know he's great, but you still need a little luck to win one of these big races and he had it today. It's amazing how it all worked out. He's a great kid with a bright future and I couldn't be prouder of him."

Clary arrived at the Million with a specific game plan to double-enter his own two Over Kill Motorsports dragsters in the main event with his primary drivers, Troy Williams Jr. and Andre Nunez. Clary opted to change that plan on the fly when one of his cars developed a small, but potentially troublesome issue.

"We decided to park my blue and orange Phantom Race Cars dragster," said Clary. "It wasn't an easy decision because that is my favorite race car. It's the car we call 'Fancy'. It has won several $50,000 races and five NHRA national events with three different drivers. It's the car that put Over Kill on the map, but I talked with Troy and Andre on Saturday morning and we just didn't feel like the car was strong enough to be in the Million. It just wasn't the right tool for the job. We decided to look for other opportunities and that's when we made the deal with Johnny Ezell. I have to give a lot of credit to my drivers for sacrificing an entry, but they are the best at what they do and if they're not comfortable with the car, I'm going to listen to them."

Clary and Williams canvased the vast expanse of the Montgomery Motorsports Park pit area to find another driver to enter in the main event. Out of more than 650 possible choices, they quickly settled on Ezell, who was originally planning to enter just one of his two dragsters.

"One of the first people we talked to is Johnny," Clary said. "I think he's come a long way as a racer and he's a great person. I thought he gave us the best chance to win. He's got two dragsters and we debated a little bit over which one to back, but Troy finally said, 'You know if you don't do this deal he's going to win the race and you'll be kicking yourself.' He was right."

While Clary was obviously thrilled to earn a share of the largest payday in drag racing, he's also happy to help Ezell further his career, and to promote the Over Kill Motorsports brand.

"It's great to win some money but the greater feeling is helping a kid achieve his dream and win the biggest race in bracket racing," Clary said. "For me, that's a much bigger payoff. I like being able to help others. My father and I built Over Kill Motorsports around racing and we're always eager to give back to those who have supported us. We also have a number of great sponsors including Mickey Thompson Tires, Wiseco Pistons, FTI Transmissions, VP Race Fuels, Comp Cams, Quick Fuel Carburetors, King Bearings, Lunati, Nitrous Outlet, Milodon, Simpson and ISC Racers Tape . Lastly, I would like to thank my entire staff at Over Kill for their hard work that allows me to enjoy time away from the business to be at events such as The Million. This was a weekend that I'll never forget."

---

About Over Kill Motorsports: Over Kill Motorsports was established as a family business by the father and son team of Mitch and Mitchell Clary in 2009. It was a humble beginning for the Clary's, who started the business out of their backyard in Jacksonville, Fla. Through years with hard work, dedication, and commitment to excellent service, the Clary's earned the loyalty and support of their customers. Over Kill has since become an industry leader among motor coach, race trailer, and custom golf cart retailers both in the United States and abroad. Over Kill is also a proud supporter of numerous drag racing teams including Top Fuel champion Clay Millican, Pro Stock Rookie Tanner Grey, and the successful sportsman racing duo of brothers Gary and Troy Williams Jr. Over Kill is also the Co-Founder of the American Outlaws Racing Series.
---