News & Events
Join Our electronic mailing list and receive notifications about upcoming events, latest sales, new arrivals & exclusive offers
Join Our Electronic Mailing List
Official Gold Rush Dealer
March 1, 2018- We are happy to announce that we are now an official dealer for Gold Rush trailers! At Over Kill Motorsports, we have had our very first Gold Rush Stacker arrive! Due to the popularity of these, the first unit is already sold and heading to Nevada! We will however, have a 34' Stacker coming available in May.
Over Kill Motorsports owner, Mitchell Clary States "he is very excited to partner with Phil and the staff of Gold Rush because of their superior quality trailers they build. We believe it will fit nicely with our other Over Kill products."
Using high grade aluminum and stainless steel allows Gold Rush to build trailers that possess maximum strength with minimum tow weight. It would be easier and more profitable to use lesser grade materials, but in the end it would not be a Gold Rush trailer. Making sure that each part of the trailer, no matter how insignificant, is of the highest quality possible, Gold Rush creates a trailer that is more than just the sum of its parts.
Gold Rush builds tag-a-long, fifth wheel, and semi-trailers for purposes such as race car haulers, concession trailers, specialty haulers, custom cargo haulers, motorcycle trailers, and specialty boat trailers.
At Over Kill, we offer nationwide delivery and provide the best pricing. Give us a call at 904-247-4325 and let us find the OVER KILL product that fits your needs! Don't forget to visit our website at www.okmotorsports.com to view our current inventory!
Outlaw Street Car Reunion
March 1, 2018- Over Kill Motorsports is proud to announce their sponsorship with The Outlaw Street Car Reunion, featuring the world's fastest Outlaw street Cars.
Mitchell Clary, Owner of Over Kill Motorsports says, "To partner with Tyler and the staff at OSCR will provide us with a chance to get more OSCR exposure for our products at one of the premier radial racing events in the country."
The Holley EFI Outlaw Street Car Reunion is moving into its fifth season this year with a new host location off Beech Bend Raceway Park in Bowling Green, KY and a new date on April 18th-22nd. During the event, Over Kill Motorsports is giving away three $500 gift certificates towards a purchase of any golf cart or trailer.
"To work with Over Kill Motorsports is going to be a great partnership on this event. People are always looking for a good deal on a new pit vehicle or push cart and with O.K's assortment of golf carts, teams will have a firsthand look at what they could own or even take it home that weekend. Same instances with the motorhome and trailer display. Race team owners can see what options are available and what all their minds can dream up with a custom trailer or motorhome from Over Kill. Speed Promotions LLC is proud to work with the entire team at Over Kill on the OSCR event in 2018. We look forward to building this relationship even more for 2019 and beyond!"-Tyler Crossnoe
This event is unique in that it features Radial vs. The World, Limited Drag Radial, X275, Ultra Street and MX235 all on small tires. The Frankenstein Engine Dynamics Mid-West Pro Mod Series has been added for the 2018 season, along with an Xtreme 28" No Time 16-car shootout. Pro Street Motorcycle returns for his second straight season and our sportsman index classes return with their special two races in one weekend concept, which yielded full 64-car fields in both 6.00 and 7.00 Index in the past.
Dooling Hayward Motorsports/ RCR announces Over Kill Motorsports as
New 2018 Chili Bowl Sponsor for Tanner Thorson
Morrison, IL (Dec. 30, 2017) – Dooling Hayward Motorsports/RCR is excited to partner with Over Kill Motorsports for the 2018 32nd Annual Lucas Oil Chili Bowl Nationals.
Through humble beginnings for father and son team Mitch and Mitchell Clary whom started their business out of their back yard, have become one of the most successful grass roots, motorcoach, trailer and golf cart dealers located in Jacksonville Beach, FL.
Through hard work and dedication coupled with quality products and commitment to excellent customer service Over Kill Motorsports has earned a spot as one of the most trusted dealers in the United States with customers extending abroad.
Tanner Thorson, the 21-year-old Minden, Nevada native has proved he is more than ready to continue to advance through the ranks in 2018. As a 2016 USAC National Midget Champion with 61 starts under his belt he's ready for No. 62 at the 2018 Chili Bowl Nationals.
"A company like Over Kill Motorsports is a perfect addition to the No. 63 team," Tanner stated. "I have confidence we can help gain awareness for their company, and I am proud to welcome them as a partner to our Motorsports team.
With my Chief Mechanic, Rusty Kunz's hard work as well as all the effort from my team at Dooling Hayward Motorsports/RCR along with all of our sponsors makes this a very unique opportunity. It has me determined and really looking forward to a successful start to our season," Thorson concluded.
2017 STATS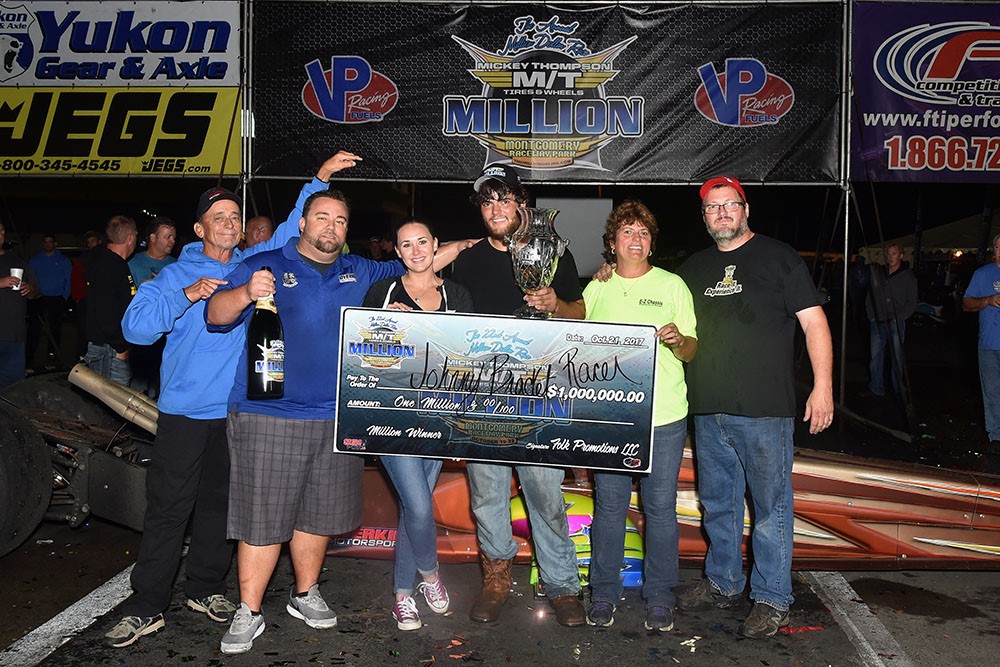 61 Races, 7 Wins, 34 Top 5s, 41 Top 10s.
Over Kill Motorsports enjoys big success at the Million
MONTGOMERY, Ala. – Mitch Clary knows a good investment when he sees one so when he had an opportunity to back rising E.T. bracket racing star John Ezell during last week's Mickey Thompson Tires Million Dollar Drag Race, it was too good to pass up. Clary posted Ezell's $2,000 entry fee into the Million Dollar main event, and posted the $500 buy-back so Ezell could re-enter the event after a round one loss. In the end, Clary's foresight paid big dividends after Ezell went the distance, defeating a field of 337 entries to win the $325,000 top prize.
Throughout nine grueling rounds of eliminations, Clary watched in anticipation as Ezell drove his dragster past some of the toughest competition in the world of sportsman drag racing. Near midnight, Ezell reached the final round and went on to defeat Jason Lynch to win the prestigious event. The winner's circle celebration was animated and unrestrained and Clary was right in the middle of it.
"This was so cool to be a part of," said Clary, who operates Over Kill Motorsports in his hometown of Jacksonville, Fla. Over Kill is a leading retailer of motor homes, trailers, and custom golf carts. "I've had a chance to watch Johnny race and I've seen his talents develop. I know he's great, but you still need a little luck to win one of these big races and he had it today. It's amazing how it all worked out. He's a great kid with a bright future and I couldn't be prouder of him."
Clary arrived at the Million with a specific game plan to double-enter his own two Over Kill Motorsports dragsters in the main event with his primary drivers, Troy Williams Jr. and Andre Nunez. Clary opted to change that plan on the fly when one of his cars developed a small, but potentially troublesome issue.
"We decided to park my blue and orange Phantom Race Cars dragster," said Clary. "It wasn't an easy decision because that is my favorite race car. It's the car we call 'Fancy'. It has won several $50,000 races and five NHRA national events with three different drivers. It's the car that put Over Kill on the map, but I talked with Troy and Andre on Saturday morning and we just didn't feel like the car was strong enough to be in the Million. It just wasn't the right tool for the job. We decided to look for other opportunities and that's when we made the deal with Johnny Ezell. I have to give a lot of credit to my drivers for sacrificing an entry, but they are the best at what they do and if they're not comfortable with the car, I'm going to listen to them."
Clary and Williams canvased the vast expanse of the Montgomery Motorsports Park pit area to find another driver to enter in the main event. Out of more than 650 possible choices, they quickly settled on Ezell, who was originally planning to enter just one of his two dragsters.
"One of the first people we talked to is Johnny," Clary said. "I think he's come a long way as a racer and he's a great person. I thought he gave us the best chance to win. He's got two dragsters and we debated a little bit over which one to back, but Troy finally said, 'You know if you don't do this deal he's going to win the race and you'll be kicking yourself.' He was right."
While Clary was obviously thrilled to earn a share of the largest payday in drag racing, he's also happy to help Ezell further his career, and to promote the Over Kill Motorsports brand.
"It's great to win some money but the greater feeling is helping a kid achieve his dream and win the biggest race in bracket racing," Clary said. "For me, that's a much bigger payoff. I like being able to help others. My father and I built Over Kill Motorsports around racing and we're always eager to give back to those who have supported us. We also have a number of great sponsors including Mickey Thompson Tires, Wiseco Pistons, FTI Transmissions, VP Race Fuels, Comp Cams, Quick Fuel Carburetors, King Bearings, Lunati, Nitrous Outlet, Milodon, Simpson and ISC Racers Tape . Lastly, I would like to thank my entire staff at Over Kill for their hard work that allows me to enjoy time away from the business to be at events such as The Million. This was a weekend that I'll never forget."